A Mermaid-Inspired
Beach Wedding Theme
Seashells, sand dollars, waves crashing, vows spoken — a beach wedding theme amidst warm salty air, sea and sky. A lovely white dress billows like a sail in the wind, while shades of teal, azure, and periwinkle follow suit on the wedding party.


To be barefoot or not, formal or casual, flowing hair instead of a veil, anything goes with a beach wedding. Men in formal attire, or just as easily in light cotton shirts and rolled up pants. It all fits together seamlessly at the beach. 

How does a mermaid inspire this theme? A long, flowing tail and fins that dance with the sea as she twists and turns — the perfect inspiration for a wedding dress. Layers of soft fabric that sway with a bride's movements, trains that flow gracefully behind her. And there is the mermaid dress itself. Sensuously form-fitting then flaring into a tail, adorned with beading and designs that resemble shimmering scales. A long flowing mane of hair that moves delicately with the currents, almost in slow motion, the inspiration for a veil. 
A mermaid's jewelry of shells and pearls worn by a bride. The colors of a mermaid's hair and tail — aqua, jade, seafoam, coral, lavender, blush — a  gem-like display by bridesmaids. 
The wedding venue itself, the sea, a mermaid's home.




The wedding dress. The star of the show. A dressing room filled with ten dresses and none of them are quite right, or it's the first beautiful gown you see and the stars have just aligned for you!
The lace wedding dress, popular from time immemorial. Old-fashioned yet weaved into contemporary designs and classic silhouettes. 




Simplicity speaks volumes in beach wedding themes. Understated elegant dresses that won't break the bank, a must for weddings on a budget.
A splash of color will make waves at the beach. Trendy, non-white wedding dresses add a unique style to your personalized wedding theme.

Entice your guests even before they arrive with unique beach themed wedding invitations. Artistic and beautiful seaside scenes will enhance your event details.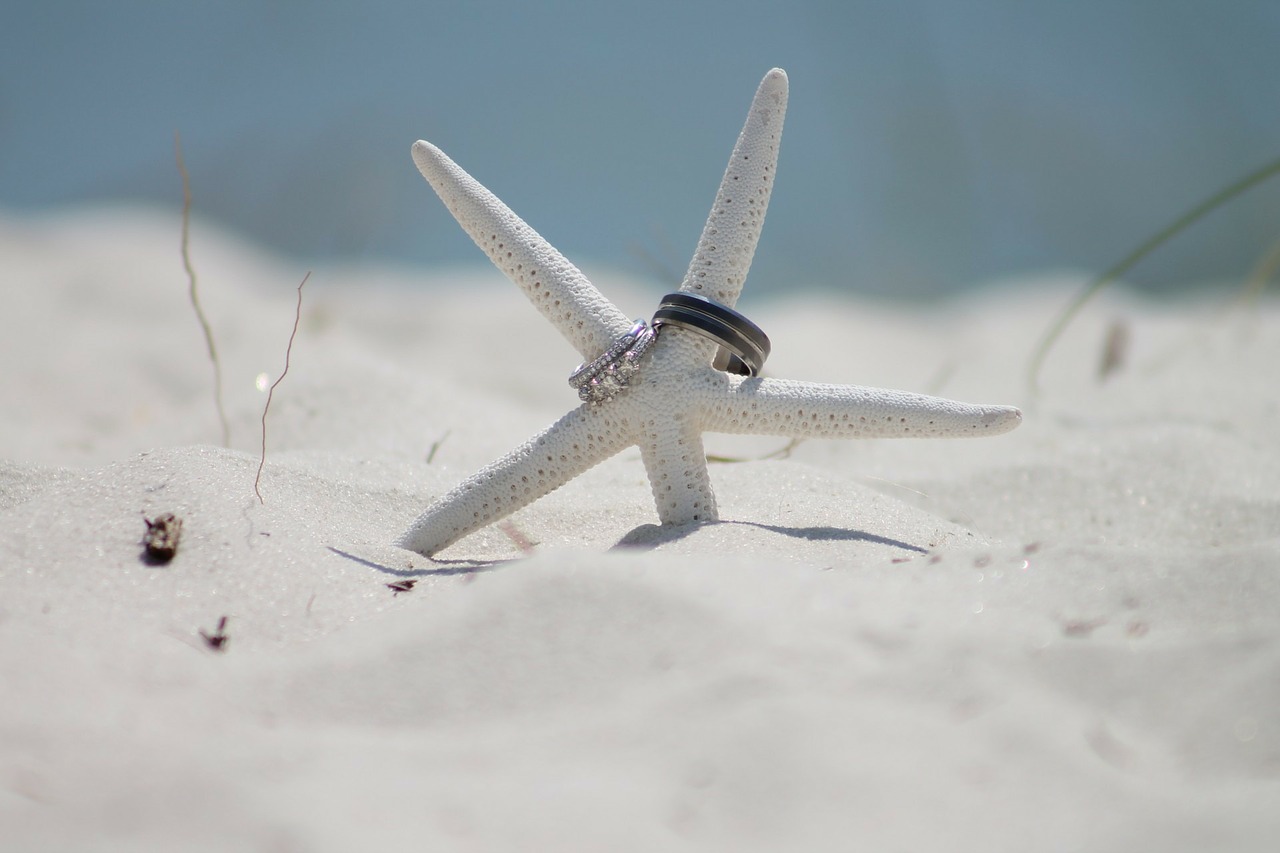 Beachcombers, you and me
Two souls together we're destined to be
In our minds where all is free
In our hearts beside the sea
You and me
Mermaids > Beach Wedding Theme