Mermaid Tails Just Like Ours!

There's magic in wearing mermaid tails
Flying through water as if you had scales
Keeping pace with dolphins and whales
In weightless rhythm your body sails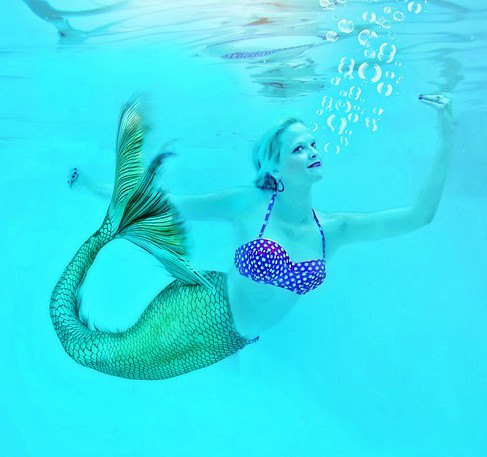 Circling, swirling, flying, pivoting, floating! It's a beautiful water dance enhanced by a mermaid's tail. As the saying goes, "Imitation is the sincerest form of flattery."  I am delighted that tails have become so popular!
I secretly like to float just out of view and watch people learn to maneuver in these clever tails. It's exhilarating to see their enjoyment. There is some trial and error involved while getting used to them, but with practice you will soon be gliding and turning in your own water ballet. 
Propelled underwater I'm filled with glee
Buoyant and  jubilant, ever so free
Arms gently floating while I glide
On the outside I've become the mermaid inside
With so many gorgeous shades to choose from — teal, fuchsia, aquamarine, jade, seafoam — there is a wide array of multicolored combinations in every hue of the rainbow. Like tropical fish, they come speckled with jeweled colors as iridescent, shiny, and sparkly as gemstones. 
In sun-dappled water my tail shimmers
Each scale a jewel through which light glimmers
With a spin of my fin I swiftly dash
As I head to the surface and make a big splash


Mermaid Tails For Everyone

Just as mermaids come in all shapes and sizes, so do mermaid tails! Choose from full swimmable-fabric tails or monofins. There are many popular brands to choose from such as Fin Fun Mermaid, offering a wide variety of high-quality fins and tails. 
Looking for a custom-made tail? Check out these one-of-a-kind mermaid fins, tailored to your specific measurements in unique designs and vibrant colors. 
Don't get caught tailless when you're above the surface! Mermaid blankets will keep you warm and cozy when the weather turns brisk. Snuggle up inside a comfy tail while watching television, talking on the phone, at a slumber party with your friends, or dozing off in your mermaid dreams.



And speaking of slumber parties, I've been asked if mermaids have "tailgating" parties. Not exactly! You might want to call them "tail-wading" parties, where we use our tails to balance in one spot while visiting with each other. We may trade jewelry, talk about new destinations, where to find the best ocean currents, newly discovered treasures on the seafloor — whatever suits our fancy!
And so this tale does come to an end
While in you I've found a newly-finned friend
Who dares to dream as big as the sea
Never afraid to become who you truly wish to be
Mermaids > Mermaid Tails