Who Is Mermaid Aerwyna?
Hi!  That's me.  I'm Mermaid Aerwyna, webmaster and author of UniquelyMermaid.com.  I love living in the sea, and want to share my experiences with you.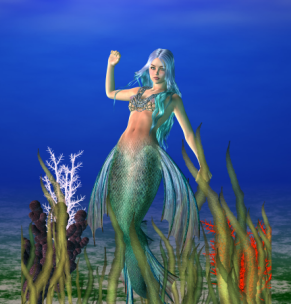 As mermaids go, I'm a bit of a rebel! I prefer being on my own, and don't especially relish the group thing. That gives me plenty of time to wander and roam, and put my thoughts down into words.

I've traveled to many places, but spend most of my time now between the Azores, Bermuda, and the Sargasso Sea. Like a homing pigeon, I always find myself returning to these three wondrous locations! 
The Sargasso Sea is incredibly blue, blue, blue and crystal clear! I bask in the solitude of this unusual place. Sargassum seaweed is so prevalent here that it creates a floating floor above the surface, and a floating ceiling below. Shafts of light shine through heightening my senses and imagination.
The cobalt seas surrounding the Azores Islands are truly inspiring. Below the surface is a diver's dream, but I like to spend my time here propped up on a rock, drawing and painting the volcanic landscapes. 
Bermuda's vibrant turquoise waters and brightly-hued coral reefs infuse me with energy and passion. It's here where I do most of my writing.
By the way, Aerwyna is an English name meaning "friend of the ocean."  My guess is that you are a friend of the ocean, too!
Welcome!
Keep In Touch By Mermaid Mail!
There are plenty of fish in the sea, and your email address won't be shared with any of them!

Mermaids > About Me