Welcome to the Enchanting World of Mermaids!
Dive into the Beauty and Mystery of the Sea
Discover a world where shimmering tails and captivating tales come to life. Welcome to my realm beneath the waves, a place where mermaids roam and dreams take flight. I'm Aerwyna, here to lead you through this enchanting world. Whether you're seeking exquisite tails, mesmerizing art, enchanting stories, or unique decor, you've found your aquatic haven.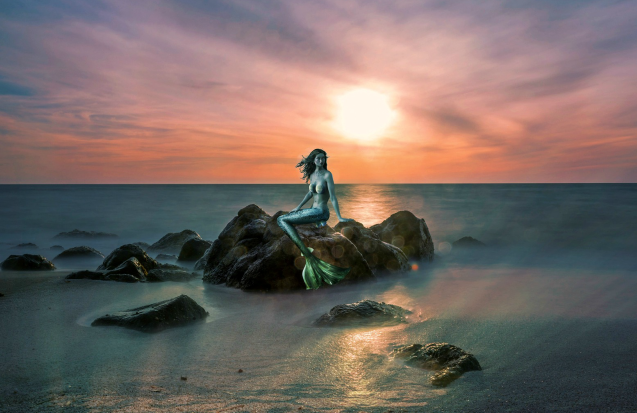 Explore Our Realm
Mermaid Tails: Immerse yourself in the allure of our pre-made and custom-made mermaid tails, each a masterpiece of design and comfort.
Art and Decor: Transform your space with mermaid-inspired art and decor that brings the magic of the sea into your home.
Mermaid Stories: Unveil the secrets of the deep through our collection of captivating mermaid stories, poetry, legends, and mysticism.
Parties and Celebrations: Make a splash at your next event with mermaid-themed parties and celebrations that will leave guests enchanted.
Beach Weddings: Create a wedding as unique as your love with our mermaid-inspired beach wedding ideas.
Transformation: Explore the mystique of mermaid transformation and find tools to embrace your inner mermaid.
Meet the Mermaid Behind the Waves
Hello, fellow adventurers! I'm Aerwyna, a true lover of the sea and all its wonders. My passion for mermaids and their enchanting world led me to curate a treasure trove of mermaid-themed delights. With a heart full of tales to tell and creations to share, I invite you to join me on this aquatic journey.
Dive In and Let Your Imagination Swim
Feel the magic as you explore our underwater haven. From the depths of the sea to the shores of your imagination, our collection awaits your discovery. Embrace your uniqueness and let your inner mermaid shine.

Ready to Dive Deeper? Explore our categories, discover treasures, and become a part of our mermaid community.