Mermaid Decor
So, where to begin? Hmm... let's see. There's one place in your home where you immerse yourself in water on a daily basis (at least those around you hope you do!). You guessed it, the bathroom! Restroom, lavatory, powder room — call it what you will — a mermaid goes where water flows!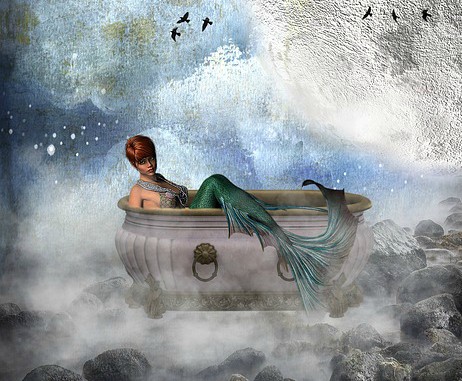 Everything from towels to soap dishes can be adorned in mermaid splendor. What better way to bring a salty, beachy sea theme into your home! You can literally make a splash in the bath with an enchanting mermaid shower curtain, featuring Ariel and friends from The Little Mermaid and more!
I don't know about you, but after a hot steamy bath I'm ready for sleep. If lights out is next on your agenda, tiptoe or tiptail over to your cozy sleeping chamber and doze off wrapped in mermaid-themed bedding. But before you do, tuck the kids in with their favorite characters from The Little Mermaid for a long dreamy sleep. 



What about those walls? Perhaps you got a little overzealous with key lime green in the bathroom and lavish lavender in the TV room. No problem! Mermaid wallpaper to the rescue. Enliven the look of dull, humdrum sheetrock or plaster with stylish mermaid scenes for kids and adults alike.
So what's cooking? Something salty, I hope. Mermaid-themed kitchen accessories will spice up a design that's gone stale. Pepper your pantry with siren-inspired cutting boards, dish towels, placemats, wine glasses and more. Your guests will know you're a seasoned cook with great taste!


Mermaid Decor Goes Beyond Your Home!
By the way, if you find yourself singing along with Willie Nelson's On The Road Again, or watching Driving Miss Daisy for the fifth time, the highway is a-calling! And there's no reason why mermaid decor has to stay at home. Now you can be "Driving Miss Ariel" with The Little Mermaid car accessories. 

Mermaid decor goes wherever you go on your phone case, tablet, laptop, diary, scrapbook, skateboard, travel mug and more, with these colorful captioned mermaid stickers.
While you're in redecorating mode, don't forget about our other finned friends. Mermaid fish tank decorations will work just swimmingly in your aquarium or goldfish bowl. 


Every room in your home can be so much more
With floor to ceiling mermaid decor
Classic, trendy, whimsical, to name a few
Of the mermaid-inspired designs you can do
From sequined pillows in multicolored scales
To wineglasses stemmed with mermaid tails 
Overflowing with ideas from beneath the sea
Any space filled with mermaids is a great place to be!





Mermaids > Mermaid Decor