Your Mermaid Transformation

What steps can I take of my own creation
To begin my beautiful mermaid transformation
As I look in the mirror it reflects back to me
How I can become a siren of the sea
A few adjustments here and there
Let's start with long, flowing hair
Upon which a crown of shells I'll place
And sparkling glitter applied to my face
Mixed shades of shadow lining my eyes
Upon my gaze one becomes mesmerized
I slip into my tail and turn to see
A mermaid in the mirror staring back at me!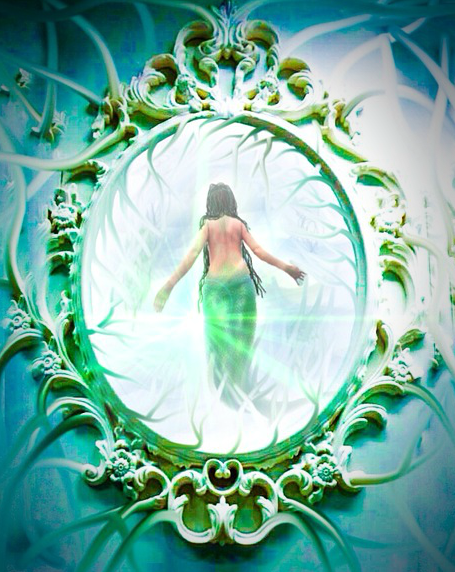 Just as you like to look like us, a number of us like to look like you! I admit I have a penchant for faded denim skirts with thick, jeweled belt buckles, and soft, barely-there cotton tops. It's fun to dress up like a human! And don't even get me started on nail art. Fabulous!
I've been asked if mermaids apply makeup, or do we naturally look the way we do. Just like you, some of us look great au naturel and some like to spruce things up a bit! I personally love to create dramatic eyes that I'll enhance with dazzling face gems. The combinations are endless! And don't stop there. Express your individuality with temporary tattoos and experience beautiful body art without commitment. No problem if you change your mind!




Is this a good hair day or a bad hair day? When in doubt, how about trying a wig! Already colored and styled, there's nothing more for you to do. My hair is fair, a combination of lilac and teal, but I love to see myself in different shades without making it permanent. A wig does the trick! Be sure to top your lovely hair, natural or otherwise, with a beautiful crown. Adding ornaments to my hair is another fave of mine. I feel so pretty when I see myself in the mirror!


Adorning ourselves would never be complete without jewelry, right? I love, love, love it! Strands of delicate shells and pearls, gemstones wrapped in alluring designs, sea glass offset by gold or silver — so many exquisite pieces to choose from. I even keep my jewelry in a trinket box encrusted with jewels!


All made up and no where to go? How about a costume party! Whether it's Halloween or just for fun, you will impress in mermaid dress! Not just for toddlers and kids, adults can make a splash as a mermaid, too!




Mermaid Transformation For A Day
Watch as Rosanna becomes a gorgeous mermaid for 24 hours!
Mermaids > Mermaid Transformation