Mermaid Oracle Cards
I just love oracle cards, especially if they're mermaid oracle cards. Enchanting scenes of the sea provide picturesque backdrops for a mermaid's sage advice.
The energy of the sea is ancient and provides a wealth of knowledge readily available to anyone who believes in its power.
Mermaids have the unique capability to harness this energy and its life-enriching messages.
The ocean will yield its secrets to anyone, but if you're having trouble deciphering on your own, oracle cards are an uncomplicated way to receive guidance and inspiration. Unlike tarot cards, there are no set rules or skills to learn.
If you're new to oracle cards, pose a question either silently or aloud while shuffling the deck and pull the first card that you feel inspired to. More often than not it will make sense as an answer to the question you just posed. 
How does this happen? My belief is that it is actually you answering your own question. It's the part of you that has access to all knowledge—it's your subconscious mind or your higher self. Some call it divine inspiration, but whatever you choose to call it, the outcome is the same.


The product links on this page are affiliate links. A commission is paid to this website at no extra cost to you when a purchase is made through an affiliate link. For more information, please click here.
Ride the Wave of the Future with
Deckible!
Released in September 2022, Deckible is a digital card marketplace that is adding a new dimension to oracle, tarot, and affirmation cards. Think of it as "Audible" for card decks!
We all love the tangible aspects of our physical decks. Deckible doesn't replace them, it adds accessibility in a major way. No need to carry your decks while you're traveling, at work, or meditating in nature. Download the free app, peruse the marketplace,  and draw a card or a spread wherever you are!

Deckible has some nifty features. You can shuffle, flip, choose a random layout, or selected spread. Each card has a digital journal for typing in your thoughts, and a timer if you choose to meditate on a card. How cool is that? 
With that said, I am pleased to offer you my first digital card deck!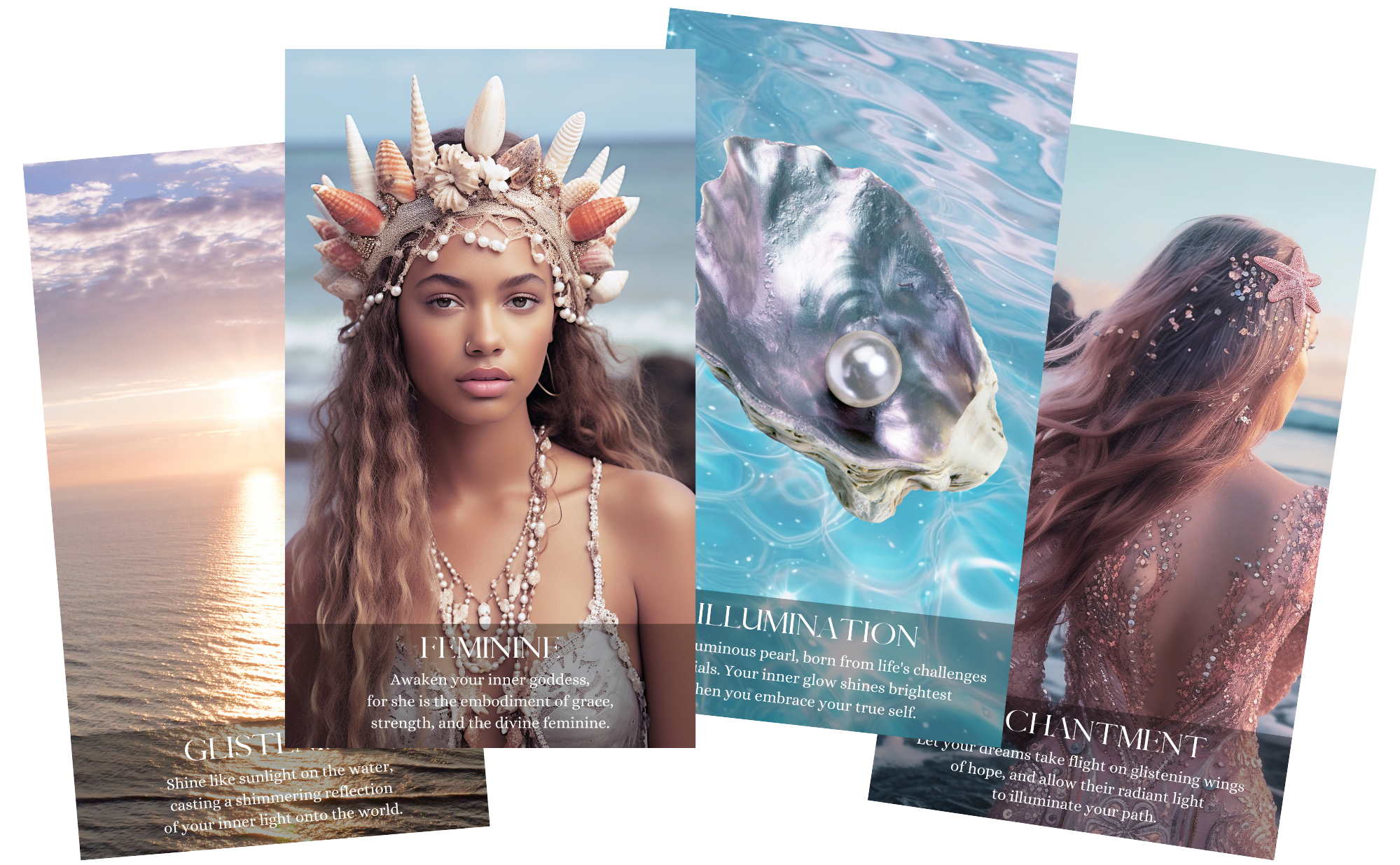 Mermaidcore Oracle Cards
A Unique 44-card Deck to Release Your Inner Mermaid (paid link)

The Mermaidcore Oracle Deck is a captivating journey into the mystical realm of the sea, where the enchanting allure of mermaids guides you toward self-discovery and empowerment. With 44 beautifully illustrated cards, and expanded descriptions of each card serving as a guidebook, this deck invites you to explore the depths of your soul, much like a mermaid delving into the ocean's mysteries. 


If you prefer a printable version of the Mermaidcore Oracle Cards, you'll find them in my Etsy Shop as part of the Mermaidcore Self-Care Kit (paid link). This kit is your personal sanctuary, where the wisdom of the sea and the allure of mermaids meet to inspire and empower you. Contained within is a treasure trove of tools designed to help you dive deep into self-discovery, reflection, and inner transformation. 
---
Inspirational Mermaid Oracle Cards
These mermaid oracle decks will help you with the answers you seek while uplifting you with their beautiful artwork and messages. 

Oracle of the Mermaids:
Magical Messages of Healing, Love & Romance (paid link)
This 45-card deck by Lucy Cavendish embraces divine feminine nature. With bold, magical and mystical illustrations by Selina Fenech, you will be transported into an enchanting world of mermaid wisdom with each card. A 168-page guidebook is included to assist you on your journey.


---
Messages from the Mermaids:
A 44-Card Deck and Guidebook (paid link)
Vivid artwork by Linda Olsen brings to life a 44-card deck by Karen Kay. Its simplistic card messages are expanded upon in the accompanying guidebook, enriching your quest.


---
Magical Mermaids and Dolphin Oracle Cards:
A 44-Card Deck and Guidebook (paid link)
Mermaids and dolphins are your companions in helping you unlock the best version of you. This 44-card deck and guidebook by Doreen Virtue will help you to remain true to yourself as you manifest your goals in life.


---
Myths & Mermaids:
Oracle of the Water (paid link)
In addition to mermaids, this 42-card deck and guidebook includes wisdom from water spirits such as nymphs and sprites. Charming fantasy art illustrations by Jasmine Beckett-Griffith enhance the wide-eyed water fairies' messages.


---
Mermaids and Dolphins:
and magical creatures of the sea (paid link)
The sea has many stories to tell and many to tell them. Mermaids, dolphins, whales, sea gods and goddesses all offer clues to your destiny in this 52-card deck and guidebook by Gillian Kemp.


---
The Oceanic Wild Mermaid Oracle Deck (paid link)
Bright and colorful mermaid scenes and iridescent edging enhance this 40-card deck by Tiffany Sosa. The reader will enjoy multiple interpretations from the single-word messages conveyed on each card. 



A Journal For Your Mermaid Oracle Cards
I have created this lovely oracle card journal to track your daily readings, a perfect fit to your mermaid oracle decks! This 120-day journal features a customizable table of contents, pages for notes and artwork, and a custom oracle card index. Each numbered page records:
Date, Time, Deck
Feelings/Mood
Question(s)
Card(s) Drawn
Interpretation
Reflection/Notes
Mermaids > Is A Mermaid Real? > Mermaid Oracle Cards