Mermaid Baby Shower Games

Planning a baby shower with a mermaid theme? You'll love these mermaid baby shower games, and so will your guests! Consisting of nine word puzzles, this bundle will add pizzazz to your mermaid or ocean-themed baby shower!
Delight your guests with three word search, three word match, and three word scramble puzzles all about baby!
Print them out, copy them, and you are good to go!
The product links on this page are affiliate links. A commission is paid to this website at no extra cost to you when a purchase is made through an affiliate link. For more information, please click here.
Available from my Etsy Shop as an instant download, you can start printing them right away from home or bring them to the nearest copy center, office supply store, or print shop.
What makes these puzzles different are the adorable images. Mermaid mama proudly displays her baby bump, while merbabies nap on the moon and dream on oyster shell beds. Mama holds onesies with It's a Boy, It's a Girl, and Welcome!  There's even a mermaid mama opening shower gifts at the beach! Shells and other undersea images enhance the mermaid baby shower theme in dark skin tones (paid link)...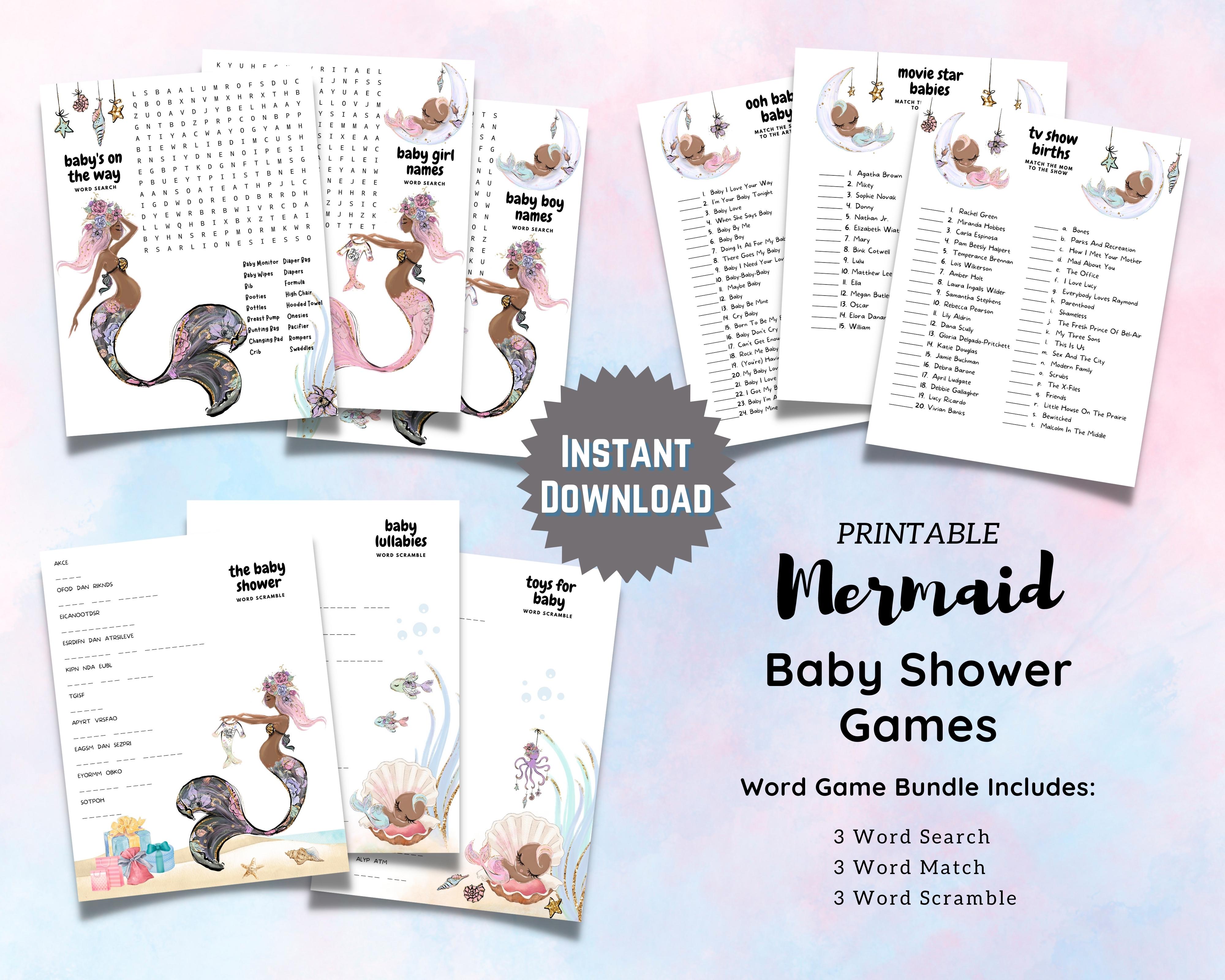 ...and light skin tones (paid link).
So What Are These Mermaid Baby Shower Games About?
Good question! Babies, babies, and more babies! Let's explore further...


Word Search
Searching for words is easy, right? Not always! Sometimes it feels like you're in a maze of confusion. Letters everywhere in every direction and none of them make sense! And then a word appears, then another, and another until the puzzle is solved. Okay, maybe there's that one lingering word that just doesn't seem to be there. Should you cheat? After all, the answer sheet is included! Your baby shower guests will love these word search puzzles:
Baby's On The Way
Do the expectant parents have everything they need for this auspicious, imminent arrival? Chances are it will be on this list. One can never have too much stuff! 
Baby Girl Names
Check out some of the latest trends in baby girl names. You'll find classic names mixed with more modern ones hidden within the rows of letters.
Baby Boy Names
Not a John Doe in sight this year! Like the girls, boys' name trends seem to be revisiting the past just in time for our new arrivals.


Word Match
Time for more fun! How good are you at trivia? Put on your thinking caps and match up these baby themes in song, movies and television. Have a prize ready for the guest who finishes first, or separate your guests into groups and see who wins the trivia team competition!
Ooh Baby Baby
Every one of these songs has the word "baby" in the title. Your job, if you choose to accept it, is to match the song with the artist. Piece of cake, right? No cake for you until you match them all up! 
Movie Star Babies
Who doesn't love watching a little bundle of joy on the big screen? See if you can match the baby character to the film. Winner gets the Oscar!
TV Show Births
These television mamas gave birth on the series, and you will be matching them up to the show. You might find yourself laboring to come up with the correct answer... pun intended!


Word Scramble
It looks like a different language or even a different alphabet! You might be muddled, confused, and scratching your head, but don't let your brain get fried on these scrambles. True eggheads will crack the code!
Baby Lullabies
Gently hum or sing your little one into dreamland with these familiar tunes.
The Baby Shower
Unscramble the baby shower at the baby shower! You and your guests will be partaking of these very things! 
Toys For Baby
"Toyland, Toyland, dear little girl and boy land..." The song from the 1961 film Babes in Toyland sums this scramble up egg-xactly!





Mermaids > Mermaid Cake > Mermaid Baby Shower Games